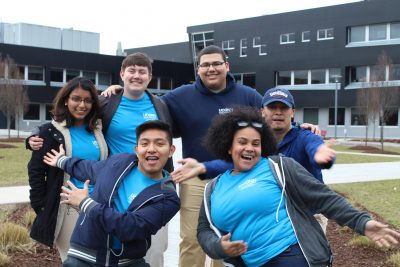 On April 7th, SHPE President Jason Santivanez ('18), Vice President Jhomar Fernandez Mayi ('17), Secretary Lara Huapaya ('19), Treasurer Tony Arreaga ('19), and Members Alexander Da Silva ('19) and Debbie Diaz ('20) Visited the Academy of Aerospace and Engineering, a Capital Region Education Council School to participate in their STEAM theme day.
The group presented on their majors and, in line with the theme of the day, 21st century skills that they found important for succeeding in STEM fields. They also ran activities showing off developments in STEM.
This included a material science demo where liquid nitrogen was used to demonstrate a superconductor's ability to levitate on a magnet, the change in material properties of a racquetball with respect to temperature was explored, and a delicious treat in the form of frozen marshmallows was a fitting reward to the enthusiastic kids.
A Makey-Makey board was used in another presentation to show how circuits work, and an assortment of video games like Super Mario and Pokémon were played as a team, using their hands, or play-dough in place of buttons.
SHPE looks forward to working with AAE again, and on doing similar events with other schools in the area.